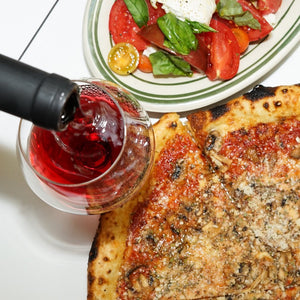 Morning Pastries
dave's banana bread, salted butter 6.25
cornetti, italian croissant 4.00
almond cornetti, italian croissant 5.00
pecan cinnamon roll 8.50 (weekends only)
apple fritter 4.00 (weekends only)
mini bombolone 3.50
raspberry jam, vanilla custard
BRUSCHETTA
SERVED ON GRILLED GJUSTA CIABATTA
garlic bread 4.90
(add parmigiano 2.50)
heirloom tomato, basil 9.75
(add parmigiano 2.50)
ricotta, orange blossom honey, sesame seeds 11.50
hass avocado toast, olive oil, lemon, crushed red chili 12.25
(add parmigiano 2.50)
marinated calabrian tuna conserva, mirepoix 15.75
HELEN'S
Helen's is all the dope wine you'll be having with dinner!
We offer a wide range of wines by the glass at each Jon & Vinny's location that change regularly and are listed on the food menu. We also offer a selection of beer and non-alcoholic drinks. We always have sparkling, white, orange, rose & red. Each location has an expansive wine list as well that includes domestic, French, Italian, German, Austrian, South American and Spanish wines to name a few.
When you dine at Jon & Vinny's, your server will ask if you want to speak with a somm, and the somm can help you navigate our by the glass options, as well as pick out a bottle of wine for the table.
Since each location has a slightly different list and our selection changes frequently, please email info@helenswines.com if you want to see what we have.
$50 corkage fee per bottle, 2 bottle limit per table, bottles on our wine list (same wine and same vintage) are not allowed.
Modifications are politely declined.

AN 18% SERVICE CHARGE IS ADDED TO ALL CHECKS TO FACILITATE A HIGHER LIVING WAGE FOR ALL OF OUR EMPLOYEES.
CONTACT
FAIRFAX
412 North Fairfax Avenue, Los Angeles, CA
(323) 334-3369
BRENTWOOD
11938 San Vicente Blvd, Los Angeles, CA
(310) 442-2733
SLAUSON
4400 W Slauson Ave, Los Angeles, CA
(323) 609-4688
BEVERLY HILLS
456 N Bedford Dr, Beverly Hills, CA
(310) 442-2323
HOURS
SUN - SAT
8:00am - 11:30am | breakfast
11:30am - 10:00pm | lunch / dinner